Come experience old-world charm fused with contemporary lifestyle trends and be part of the awakening and transformation of a historic town.
Listed on Lonely Planet as one of the top 10 places to visit in 2016, the location of the award-winning film Lust, Caution and once the centre of the tin mining industry in Malaysia, Ipoh is again poised for expansion in the 21st century.
Join us on Urban Culture Asia to relish its legendary culinary delights, experience its rich cultural and architectural heritage and to explore new opportunities for cross-cultural collaboration.
With its hipster cafés transformed from historic shop-houses, colourful street art, boutique hotels and museums, Ipoh is a gem awaiting your discovery.

---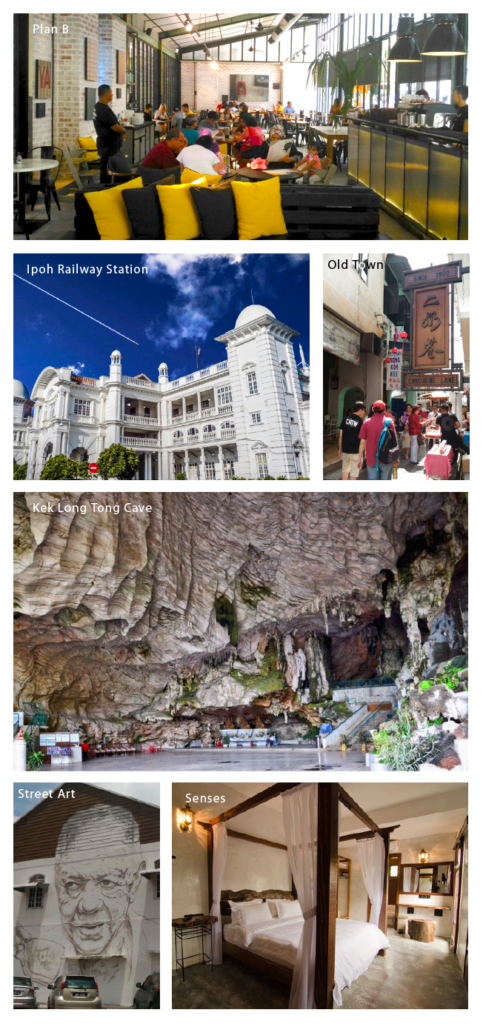 Itinerary Highlights
24 August
Thursday
Swing by the opening ceremony of CausewayEXchange 2017 and be mesmerized by instrumental world fusion music group, Flame of the Forest, and other performers.
Unwind and experience Ipoh's nightlife thereafter and indulge in their legendary street food for supper.
25 August
Friday
Learn and explore the history of Ipoh and soak in street art through a guided tour around Old Town.
Gain insights into the burgeoning lifestyle, arts and culture industry through a visit to the properties of Kong Heng Sekeping Berhad and a Birds-nest business.
Witness and participate in a book launch of The Chronicler- One Man's Diary on Life, a book on poetic meditation on life and reflections on a childhood and growing up in Ipoh by Ipoh-born Singapore-International lawyer Mr Koh Chye Hock.
End the day with Comedy Night at Bricks and Barrel with celebrity comedian, Rishi Budhrini at CausewayEXchange 2017.
26 August
Saturday
Have a choice of staying in Ipoh or travel to Kuala Lumpur for ChildAid Kuala Lumpur.
Go behind the scenes at prominent Ipoh Coffee and Biscuit (香饼) factory, before witnessing a historical part of the city at Kek Lok Tong Cave Temple, a former mining site.
Drop by a Pomelo farm before enjoying free and easy shopping.
Experience high octane exchange of words in Poetry Slam at CausewayEXchange 2017 in the night.
27 August
Sunday
Free and easy lunch before heading back to Singapore.

---